There is a lot going on in Downtown Sandpoint. Many fun events are planned and happening all the time.
Below are some upcoming events you might be interested in participating in.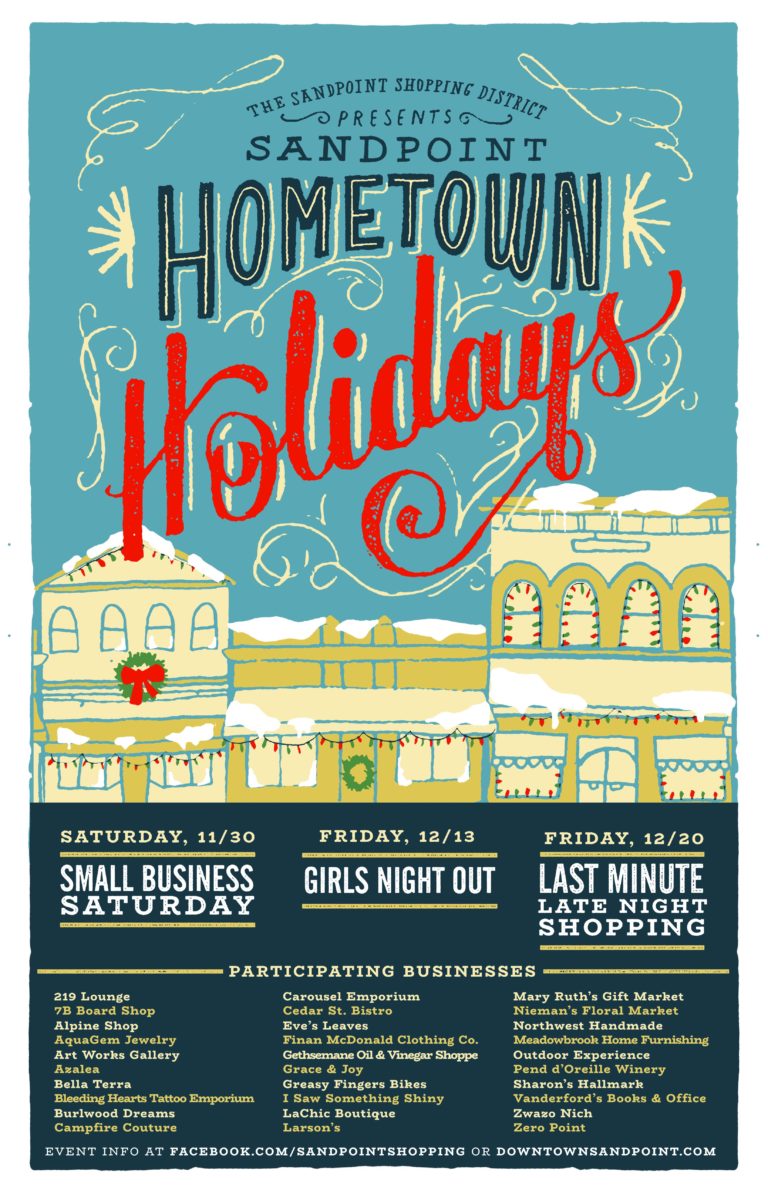 Holiday Events Happening Downtown Sandpoint
Girls Night Out:  Friday December 13th, 2019
Participating Businesses:
219 Lounge                                    Carousel Emporium                        Mary Ruth's Market
7B Board Shop                                    Cedar St. Bistro                                    Meadowbrook
Alpine Shop                                    Eve's Leaves                                    Nieman's Floral Market
AquaGem Jewelry                        Finan McDonald Clothing Co.            Northwest Handmade
Art Works Gallery                        Gethsemane Oil & Vinegar            Outdoor Experience
Azalea                                                Grace & Joy                                    Pend d'Oreille Winery
Bella Terra Boutique                        Greasy Fingers Bikes                        Sharon's Hallmark
Bleeding Hearts Tattoo                        I Saw Something Shiny                        Vanderford's Books & Office
Burl Wood Dreams                        LaChic Boutique                        Zero Point
Campfire Couture                        Larson's                                    Zwazo Nich
Pre-Party:  The Cedar St. Bistro is hosting a "pre-function" for Girls Night Out from 3-5pm.   Enjoy music by Jennifer Stoner.  Enjoy Wine Samplings and Giveaways!
Shopping Passport:  Pick up your passport from any participating business.   We want you to move around downtown Sandpoint, so you'll need to get one punch from four different "quadrants".  Four punches total.  Take your filled out passport to the Pend d'Oreille Winery and be entered to win prizes.  Grand Prize is a $400 Shopping Spree.   You don't need to be present to win. 
After Party:   Enjoy drinks and appetizer specials at the Pend d'Oreille Winery after party with music by Red Blend from 5-8pm.
Special Offers:
Bella Terra:  Yummy desserts, drinks, games and in-store giveaway.  Johnny Guitar will be playing our favorite Christmas music.
Nieman's Floral Market:  Chocolate and "mocktail" tasting, with light appetizers.
Outdoor Experience: 
Pend d'Oreille Winery:  Get a $5 wine coupon with your shopping passport.  Cookies/Refreshments.  20% off all retail merchandise.
Sharon's Hallmark:   Receive a FREE Baggallini eyeglass case with your $50 purchase (while supplies last).  Door Prizes and refreshments.  In-Store Specials.
12/20/2019 Last Minute Late Night Shopping: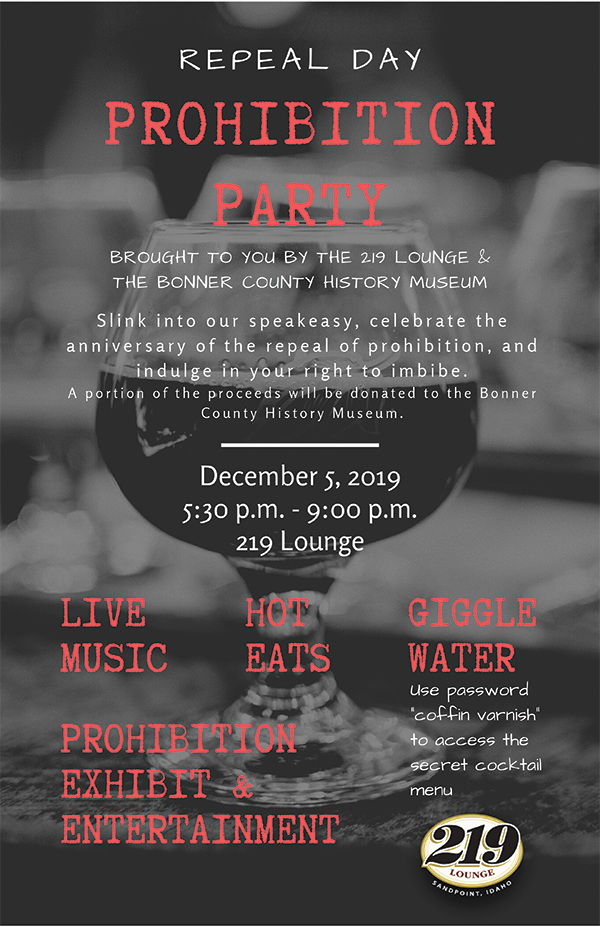 Come celebrate the anniversary of the repeal of prohibition at the 219 Lounge on December 5th at 9:00 pm. A portion of the proceeds will be donated to the Bonner County Historical Museum. Sure to be a great time.